Order Custom Sized Tooling That Will Ship Within 24 to 48 Hours!
OUR JIT Services Allow You to Order Custom Sized Tooling That Ships Within 24-48 Hours.
Did you know that our JIT (Just-In-Time) Services allow you to order custom sized tooling that will ship within 24-48 hours? It's true. Place your order by the appropriate cut-off times and your order will ship within 24 hours for decimal size reamers, carbide slitting saws and keyseat cutters and within 48 hours for weldon flats, corner radius end mills, decimal size end mills and chip breakers.
JIT - 24 Hours | 3:00 PM (EST) Cut-Off Time:
Decimal Size Reamers
Carbide Slitting Saws
Keyseat Cutters
JIT - 48 Hours | 5:00 PM (EST) Cut-Off Time:
Weldon Flat Service
Corner Radius End Mills
Decimal Size End Mills
Chip Breakers on End Mills
Want to find out more about Fullerton's JIT Services? Download our JIT Services Guide for more information on our Reamers, Saws and Keyseat Cutters.
Download JIT Services Guide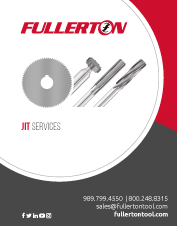 JIT Services Guide Includes:
1410 | 1450 JIT Reamers
2450 JIT Saws
4375 | 4375E JIT Keyseat Cutters